Warm Water World
Vanto®
by Caldera Spas
A non-lounge hot tub, the Vanto® model has room for seven. It also features the same stylish design and powerful jets found on all the popular-selling Vacanza® Series of spas.
Design Your Hot Tub
Colors

Ash

Shell

Arctic White

Tuscan Sun

White Pearl

Midnight Canyon

Desert

Java

Shell

Arctic White

Tuscan Sun

White Pearl

Midnight Canyon

Desert

Parchment

Shell

Arctic White

Tuscan Sun

White Pearl

Midnight Canyon

Desert
---
Vanto Features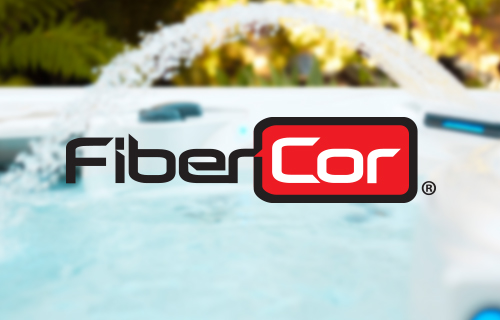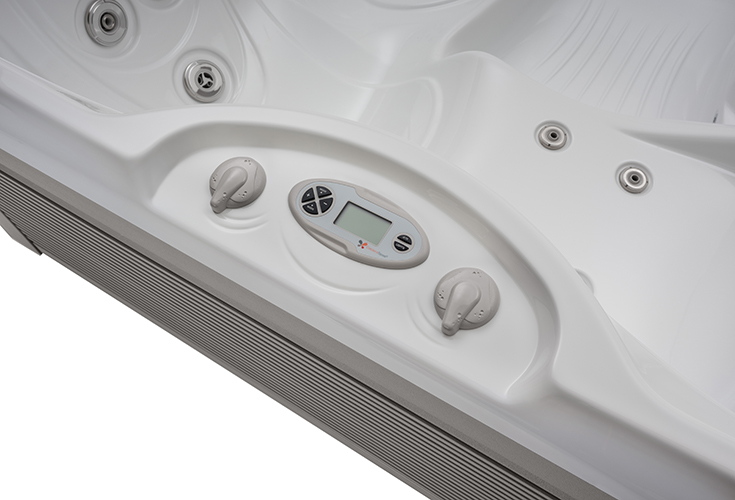 To get the most out of your spa, it needs to operate at a consistently high level. Each Caldera hot tub is engineered and built with the strictest attention to quality and efficiency. Our commitment is your assurance of reliable, energy-efficient performance for years of worry-free hot tubbing.
Energy Efficient Hot Tub
We're committed to energy-efficient design as a way to save energy and save you money on operating costs. From our innovative FiberCor® cabinet insulation to our highly efficient EnergyPro® system to custom-fit covers, a Caldera spa meets the most stringent energy efficiency standards established for portable spas. And that saves you money.
Easy Water Care
We know you don't want to handle messy water chemicals so we offer a simple water care system called the FROG® as a standard feature the Vacanza® Series. The system makes it easy for you to manage the infrequent replacement of bromine and mineral cartridges so you can enjoy sparkling clear spa water every time you dip into your Caldera hot tub.
Innovative, high-quality components
Heaters, pumps and other components are designed so they're more efficient, robust and longer-lasting.
Designing a spa for Pure Comfort® is about more than just making you feel good. It's about helping you relax completely, putting you in a place where you can leave stress behind and recharge from ground zero. Stress can negatively affect your immune system, your social interactions and your health in general. The ability to fully let go, to completely power down, is so vitally important to your overall well-being. So, yes, we take comfort very seriously.
Hot Tub Circuit Therapy
Each seat or position in a Caldera spa provides a deep massage to a different muscle group. As you move from seat to seat, jets focus on those groups, one at a time, including your neck and shoulders, the large muscles of your back, lower back, hamstrings, calves and feet. Rotate through the circuit for total-body restoration or just concentrate on the areas that need the most attention. A Caldera spa is yours to personalize as you see fit.
It's in the seat
Our designers have created ergonomically sculpted seats that comfortably cradle you, decompress your spine and keep you aligned. Combined with the buoyancy of the water, the seat's design releases pressure off parts of the body that are under force all day. Our seats are also designed in a way that help keep the water's buoyancy from floating you out of the seat. After all, it's hard to relax when you're fighting the water to stay in place. There's also a Foot Ridge® unique to Caldera® spas that helps keep you stable in your seat even when the jets are at their highest setting.
Health / Wellness / Rejuvenation
Comfort is the essential element in our hot tubs. Deep, cradling seats and a textured Foot Ridge® help you stay relaxed and seated even when enjoying powerful jets. Perfectly positioned hydrotherapy massage melts your tension away. And a whisper-quiet sound dampening design enhances the comfort experience.
A spa's warm water massage promotes healing by increasing circulation, carrying nutrients to help cells and tissue regenerate. According to the textbook Comprehensive Aquatic Therapy by industry experts Dr. Bruce Becker and Dr. Andrew Cole, immersion in warm water is a "unique healing environment" that can lead to temporary relief from muscle aches and pains.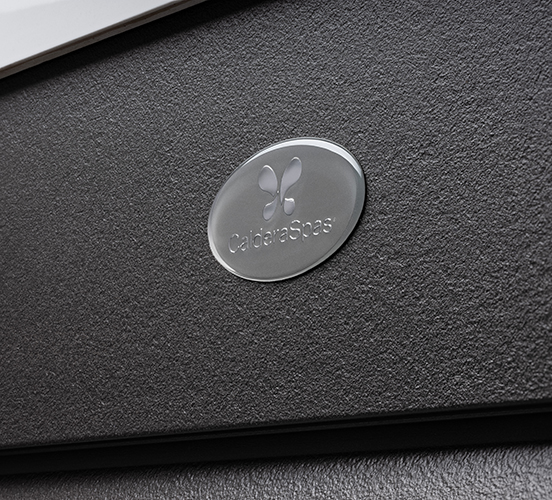 Eco Tech® Cabinetry
The immediate allure and beauty of the Vacanza® Series comes from its EcoTech® all-climate cabinetry. EcoTech cabinet, offers a contemporary design that is extremely durable it resists rotting, and is warrantied not to crack, split, or chip. It's a gleaming, high-strength material that gives the spa it's contemporary look and fluid impression. The transformed Vacanza design features a new vision of the spa shell design, one that's minimal, elegant, and contemporary. Its curved lines add to the spa's beauty with an uplifting impression.
A warm, inviting appeal
The Vacanza® Series spas represent our most innovative approach to design, performance, and comfort with features that are simply unlike any other spa available today. With it's stunning multi-dimensional EcoTech® all-climate cabinet and elegant new shell design, the Vacanza Series will captivate you.
Spa Enhancements
Accessorize your Caldera hot tub with a wide range of options that make your spa uniquely yours. Choose from an array of conveniences including steps, cover lifters, hand rails, umbrellas and hydro massage jet kits all designed to help you relax and enjoy your own private retreat.
How Entertaining
Music has the ability to enhance or create nearly any mood. For the ideal setting in or around a hot tub, it's important to have components designed to deliver high fidelity sound in a wet, outdoor environment. We offer a range of integrated music options so that you can find the entertainment system that works best for you.
Vanto Jet Systems
Provides a precise massage to target specific muscles.

These jets allow you to redirect the jet stream by changing the position of the nozzle. You can also regulate the force of the massage.

AdaptaSsage® jets provide a rotating massage pattern that you can regulate.
Vanto Reviews
Great Price and Great Product
This hot tub was the perfect balance of cost and quality. It looks expensive, has all the right jets (particularly love the foot jets, and the adjustable back jets).
I love my tub!
I have lower back issues and I try and spend a minimum of 30 min. A night in my hot tub before bed and sometimes I the morning before work. I am sleeping better and my back is feeling better.
My happy place….
I love getting into my Caldera Vanto spa for a quick 20 minute stress release. It melts the stress of a long work day.
Ghormley Hot Tub Review
We love our hot tub. Best purchase I've made in the past 20 years.
Good spa for the money
We shopped many different brands. The Vanto is a good value.
Vanto® Specifications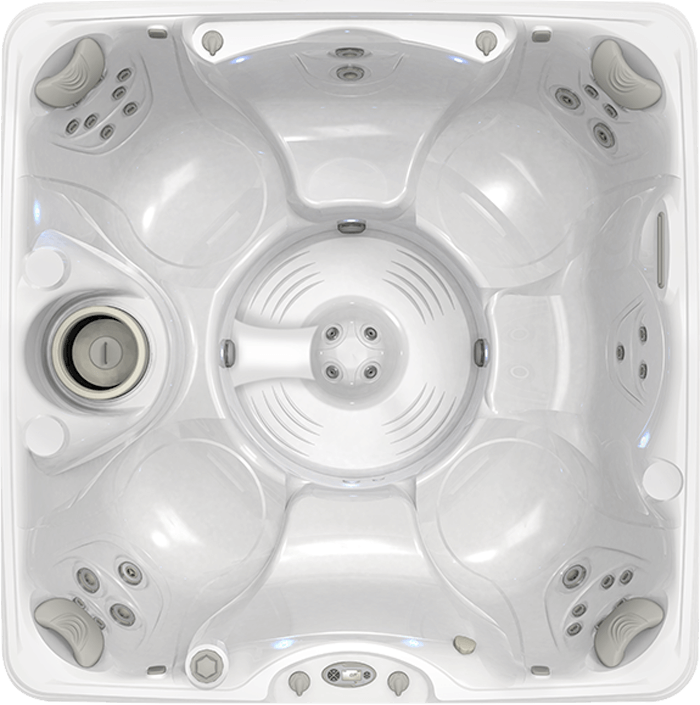 Seating Capacity

7 Adults

Dimensions

7' x 7' x 36"
213 cm x 213 cm x 91 cm

Water Capacity

375 gallons / 1,425 liters

Weight (Dry)

845 lbs. / 385 kg

Weight (Filled)

5,200 lbs.* / 2,370 kg

Jets - 35

27 Euro
5 AdaptaFlo®
3 AdaptaSsage®

Water Care Systems

@ease™ In-Line System with SmartChlor™ Technology & Minerals (Cartridge-ready, U.S. Only) or, SpaFrog® In-Line Bromine & Minerals System (Cartridge-ready)
UltraMasseuse® System

N/A

Jet Pumps

2 ReliaFlo® Pumps; 1 Dual-Speed
1.5 HP (3.2 BHP); 1 Single-Speed
1.5 HP (3.2 BHP)

Control System

LCD Main CP

Circulation Pump

None

Heater Output

Hi-Flow Heater (4,000 Watts)

Electrical Requirements

230v/50 amp

GFCI Sub-Panel

Included

Filter Size

65 sq. ft.

Ozone System

Ozone (Optional)

Water Feature

1 Acquarella® Waterfall

Multi-Color LED Lighting

Mystique® 10 Points-of-Interior Lights

Energy Efficiency

Fully-insulated with FiberCor® material, 2 lb. density; Certified to the California Energy Commission (CEC) in accordance with California law

Branding

Branding Decal on cabinet

Bottom Seal

Visquene Sheet

Insulating Cover

3.5" to 2.5" tapered, 2 lb.-density foam core

Spa Shell Options

Arctic White, White Pearl, Tuscan Sun, Midnight Canyon, or Desert

Cabinet Type

EcoTech® Cabinet

Cabinet & Step Colors

Java, Ash, or Parchment

Cover Lifter

ProLift®, ProLift II, ProLift III, or ProLift IV

Cover Colors

Chocolate, Slate, or Taupe

Cover Design

N/A

Entertainment System

(Optional) Wireless Bluetooth® Sound System, Wireless TV

Step Type

(Optional) EcoTech® or Polymer

CoolZone

N/A
Notes
*Filled weight includes the weight of the occupants assuming an average weight of 175 lbs.