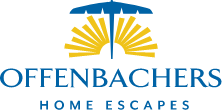 About Offenbachers Home Escapes
COVID-19 UPDATE: We are open for business in Herndon, Rockville and our new showroom in Annapolis.
Please wear a mask and observe proper social-distancing when visiting us. We look forward to serving you. Thank you!
Offenbachers Home Escapes provides the best leisure products from the finest manufacturers, delivered and installed. And we've been doing it since 1972. We are the area's  home leisure experts. We'll help you select the perfect hot tub, outdoor furniture, fire pit or swim spa for your backyard, or the perfect indoor recreational products for your game room, including pool tables, ping pong tables, dart boards, foosball tables, air hockey tables, poker tables, bars and bar stools.
Our strong culture of customer service is at the core of our business. We are dedicated to providing the best possible shopping experience and will provide you with the most conscientious service to help you throughout the decision-making process, right through delivery and installation and for years to come.
Now With Three Convenient Showrooms
292 Sunset Park Drive • Herndon, VA 20190
5528 Nicholson Lane • Rockville MD 20852
1905 Town Center Blvd #120 • Annapolis, MD 21401
Come visit us! Our hot tub, patio furniture and game-room showrooms are convenient for anyone in the Washington, DC area including Annapolis and even Baltimore
History of Offenbachers Home Escapes
Offenbachers
Karl Offenbacher, who started his business as a pool maintenance and lifeguard services company, founded Offenbachers in 1960. The first Offenbachers Pool & Patio store opened in 1972, in Rockville, Maryland. The store carried pool chemicals and supplies, as well as small and unique patio furniture items. Eventually, Offenbachers added billiards, fireplaces and grills to its offerings, and expanded into several other locations in Maryland and Virginia.
Ultimately, Offenbachers became the largest outdoor leisure retailer in region, offering finely crafted furniture for outdoor entertaining, as well as umbrellas, bars, bar stools, and accessories. And with billiards and other indoor games in the mix, Offenbachers became a one-stop shop for leisure products — both indoor and outdoor.
Home Escapes by Spas East
Home Escapes started as Spas East in 1986 and quickly developed a stellar reputation as a hot tub retailer.  The company eventually added patio furniture and billiards to its line-up, and in 2005, changed its name to Home Escapes by Spas East to reflect its new product offerings. As the company grew over the years, it fortified its reputation for excellent service and high-quality products, eventually becoming the DC area's largest hot tub and patio furniture retailer.
Recent Developments
We've Merged Our Brands

In February 2017,  the Home Escapes by Spas East and Offenbachers brands merged together to form Offenbachers Home Escapes.   We are now able to provide an expanded list of our offerings across all categories of leisure products.  Oh, and we love our new logo!
We are Excited to Announce the Opening of Our New Patio Furniture, Billiards/Game Room and Hot Tub Showroom In the Annapolis Town Center
Our new showroom in Annapolis is our largest one. Convenient to Anne Arundel County, Calvert County, Prince Georges County and Maryland's Eastern Shore, as well as Baltimore, you'll be amazed at our selection.  We're in the space formerly occupied by Great Gatherings in the Annapolis Town Center, right next to Arhaus Furniture.
Our Northern Virginia Patio Furniture, Billiards/Game Room and Hot Tub Showroom Is Open For Business
Our new Northern Virginia hot tub and patio furniture showroom is conveniently situated in Herndon, Virginia, just minutes from Home Escapes and Spas East's old Tysons Corner store on Tyco Road and old Reston showroom. The Offenbachers locations in Springfield, Fredericksburg, Sterling, Fairfax and Falls Church have been consolidated into our large Herndon showroom. We continue to have the largest hot tub and patio furniture showroom in the Washington, DC area.
Our Rockville Patio Furniture, Billiards/Game Room and Hot Tub Showroom Is Open For Business
Our new Rockville location opened for business on April 1, 2017.  The showroom is on Nicholson Lane just off of Rockville Pike near the old White Flint mall. It is also right around the corner from the former Offenbachers location at Randolph Road and Nebel Street.  Be sure to visit us here.  The former Offenbachers locations in Rockville, Lanham, Columbia and Baltimore's Hunt Valley are replaced by our new Rockville showroom. The new address is 5528 Nicholson Lane, and the phone number is 301-881-8565.