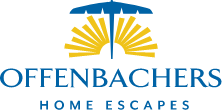 Browse Outdoor Furniture by Material
Offenbachers Home Escapes carries outdoor furniture made from a variety of durable materials, including aluminum, wrought iron, stainless steel, resin wicker, stone, recycled plastic, wood and more.
Aluminum
Including Cast Aluminum, Extruded Aluminum and Wrought Aluminum
Recycled Plastic
Featuring a Special, Heavy-Duty Plastic Made from Recycled Milk Containers
Stainless Steel
Stainless Steel Lends a Sleek Modern Look to Outdoor Furniture and Lasts for Many Years in the Outdoors
Wood
Including Teak, Ipé and Roble. These Woods' Natural Properties Make Them the World's Best Woods for Outdoor Furniture.
Woven (Resin Wicker, etc.)
Including a Variety of Man-Made Woven Materials That are Made to Last Far Longer Than Natural Wicker
Wrought Iron
Wrought Iron is Heavy, Durable and Very Difficult to Break. We Carry Wrought Iron Furniture Beautifully Crafted to the Highest Standards
Alternative Materials
A variety of materials, Including Faux Stone, Porcelain, Copper, Mosaic Tile and More